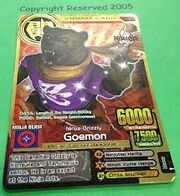 Name: Goemon ( Ninja Beast )
Nickname: Ninja Grizzly
Scientific Name: Ursus Arctos Horribilis
Type: Heavy
Ability: Henge
Class: Gold Rare
Strength: 6000
Health: 7500
Attacks: 
G: Ninjutsu Harite
T: Ninpo Kuma Henge ( Henge )
P: Cross Shuriken ( Best Attack )
Description:
This Canadian Grizzly is Konsuke and Tanumaru's senior. He is an expert at the Ninja Arts.
Trivia:
His best attack is similar to Polar Bear's Aurora Cutter.
His " Ninjutsu Harite " is similar to Yokozuna's " Thousand Harite "